« La Cascada | Brandwashed, Wholefoods, Microwave »
Welcome To Whole Foods
This spot doesn't just sell tortilla related foods, but they do offer a couple burrito options.
While some talk poorly about the corporate burritos and smile at establishments like whole foods, please remember that it is possible to serve both the customer and the shareholder (see chart).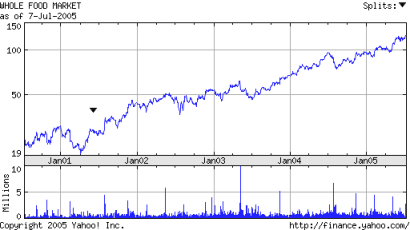 Wholefoods serves only natural and organic foods from their 169 locations, but do they serve good burritos?
Whole Foods
.
Thursday, August 04, 2005 by Jonah.